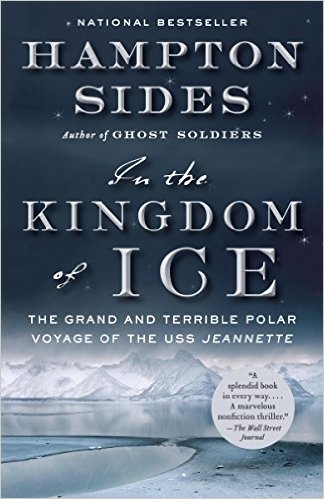 In the Kingdom of Ice by Hampton Sides reads like a steampunk fantasy, but it is a true story–hard to believe and surprising to read. The late nineteenth century version of reality TV, this voyage was produced and undertaken under the auspices of James Gordon Bennett, Jr. and his notoriously unreliable newspaper the New York Herald in an unabashed effort to sell papers. Using the latest, most up-to-date theories and technology, this voyage to the North Pole embarked under the delusion that the arctic circle was really open sea, free from ice. The Jeannette and its crew, however, were almost completely crushed by ice instead.
Hampton Sides's deep and thorough research takes us all over the world as he traces the history of the quest for the North Pole, through the science of navigation, map-making, ocean currents. He does the crew justice, too, describing the complex and compelling characters, most of whose lives were given to the cause of exploration and knowledge. For example, George De Long, the Jeannette's captain, and his new bride conduct their marriage through sweet letters and telegraphs, and Sides goes as far as historical fiction can in depicting their relationship of love, suffering and loss fully and realistically. My favorite part of non-fiction books is the center pages with all the pictures, and In the Kingdom of Ice boasts a plethora of portraits of people and crafts to pore over.
This voyage did earn its place on the map, discovering uncharted islands, for example. It merits a place on your reading list for its unforgettable scenes of the men's journey over the ice after the Jeannette is crushed by ice. Their sickening hardships and ordeals, as well as their many meaningful triumphs, seem cinematic in scope. I would definitely watch this movie, and I'll never forget this book.
In the Kingdom of Ice by Hampton Sides. Anchor Books, 2015.